Geography Board Games
Go beyond basic geography game knowledge and make connections to broader global thinking! Passport to Culture is the unique, exciting multi-cultural board game where players circle the globe, uncovering mysteries of our amazing world. Test your knowledge of world cultures from Andorra to Zimbabwe. Travel north, east, south or west, visiting all the countries in between. Challenge your CQ (Cultural Intelligence) with fascinating, fun-filled questions about people and places, food and drink, world treasures, greeting and gestures, pivotal historical events, customs and traditions.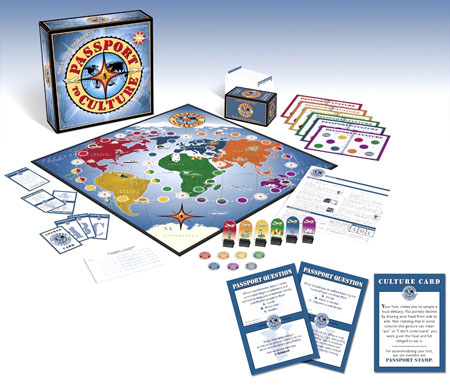 A colorful geography game that teaches all about the USA. Two to four players spin from state-to-state, learning interesting facts using entertaining, informative postcards from all 50 states.
Name that Country
Name that Country Game is a fun family board game that teaches geography and that helps players memorize countries. The game is designed for children ages 8 and above but even adults with a limited knowledge of world geography can enjoy it
The 50 United States of America have traded places so they could see another part of the country. Now they need your help to find their way home!
How quickly can you rebuild your world map? Atlas Adventures is simple in concept. All you have to do is replicate the map of the world on your playing board. Seems easy enough. But beware! Continents or oceans may have to be traded with other players and advanced players have to answer challenging multiple-choice questions to earn a continent, sea or ocean.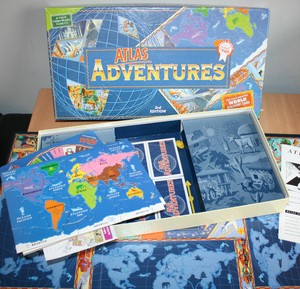 GeoBingo is a new twist on a classic game and a new way to make geography fun! The goal of GeoBingo is to get 5 countries in a row on one of the 8 GeoBingo Boards, then yell BINGO! 
Based on the best-selling game, Great States, this junior version provides the same fun and hurry-up action while introducing young players to the map of 50 states. Kids will have a blast searching the game board to find where things are as they travel along the red, white and blue game path with this Great States Game, Junior.
Winner of the Dr. Toy award for Best Children's Product. Around the World is our award-winning global boardgame that takes players on a travel adventure around the world. 
Roll into world knowledge with GeoDice, a game that makes geography fun! The goal is to name countries and capitals that start with the letters on the five Letter Dice, and that are within the continents on the two Continent Dice. With colorful dice and a two-sided Game Board that doubles as a world map, GeoDice is a beguiling introduction to world geography! 
Pack your bags and start globetrotting with this amazing and creative educational aids board game called World Safari. This is one game that will put you into the shoes of an explorer as you discover new and exciting things of the world. This fun game is not only exciting but also helps the imagination to take flight to different places in the world. So get to know and understand the different animals, people, that surround you as you play this game.
Now five to six players can explore and settle Catan. The 5-6 Player Expansion for The Settlers of Catan allows you to add up to two more opponents without sacrificing ease of play. Designed for five or six players, it adds even more drama to the award-winning game of discovery, settlement, conflict, and commerce. 
Trivia game about geographic knowledge. Each player starts with some 5 sided map tiles made from several different types of maps and places them in a correct location, followed by answering a trivia question. Points are scored both for playing the tiles and for correctly answering the trivia quesiton. If the question is asked correctly, the player may play again if possible. At the end of the player's turn he draws replacements equal to the number played. Game ends when all tiles are played or no tiles may be played correctly. Winner is the player with the most points.
Brain Quest Around the World Game, by University Games, takes kids on an exciting adventure to learn about places and people from all over the world! Players race around the world answering questions about different cities, countries and continents. 
Travel across the United States without ever leaving home when you play the fun and challenging Brainquest Geography Game. The game helps kids get to know the U.S. by answering questions correctly and collecting flags from each state when they do. Questions cover U.S. cultural and geographical topics and are geared to players' grade level—from 3rd to 6th grade. 
The Lewis & Clark Adventure Game introduces important aspects of American history, geography, and culture. Travel through the wilderness, answer questions and win charms. Two levels of questions accommodate both younger and older players (2-4 players). 
When and where in the World were introduced 16 years ago it launched the trend in geography games. Today, this game remains the most comprehensive world geography games that families and classrooms love. The game has been updated to include the latest facts about every country in the world including capitals, major imports and exports, languages and religions. 
Travel the States by plane, car and foot! Use the state and transportation cards to chart your course across the USA–the first to create a connecting ten-day vacation wins! Perfect for home or the classroom. Designed for 2-4 players, ages 8 to adult. Easily modify the level of challenge to suit beginner or advanced players. 20-30 minutes per 10-day game, or make it even less with a 5-day version. Highly educational–learn US geography and state capitals while developing strategy, sequencing, and problem-solving skills. 
State by state, this game will put kid's social studies skills on the map. Important landmarks, historical sites and capital cities are encountered as players drive their token cars around the continental United States. Third goal? To earn the most points possible by gathering state chips (three points) along the way. As long as travelers have playable cards, their turn continues. "Cruise Control", "Alternate Route" and "Fly" cards and twists and turns to the journey.
This States and Capitals Sequence game makes learning American geography fun. The game includes everything you need to start playing, including custom cards and chips for keeping score. The game accommodates up to six players, so friends and family can play, too.